Quick links: Hawaiian Hamburgers | Mashed Sweet Potatoes | Pink Snow Cones | Tropical Drinks | Massive Chocolate Cake | Verdict
We're back with some more space-aged foods from Lilo and Stitch! So get your ohana together and get cooking!
Foods Shown
Peanut butter sandwich
Mint chip ice cream
Burnt brown something
Pink stuff in blender
Olives
Orange
Butter
Orange juice
Spaghetti
Pickles
Cereal
Hamburger –
Jelly Sandwich
Apple
Pink snow cones
Pink and blue drinks
Coconut drink
Sweet potato mush
Black Forrest cake with cherry
Weird green polkadot drum sticks
Shrimp with pineapple
Purple drinks
Coffee in bottle
Can of soda?
Lots of fruits and veggies
Carrot
Lollypop
Strawberry soda
Massive chocolate cake
Popcorn
Turkey
Lemonade
Tourist Hamburger
We see a tourist eating a hamburger in one of Lilo's amazing pictures
.
This could be any type of McDonalds drive through burger, but we're in Hawaii! Lets make some Pineapple Teriyaki Burgers!
Tourist Pineapple Teriyaki Hamburger
2016-04-12 17:23:49
Serves 4
Ingredients
1 1/2 pounds lean ground beef
1 packet onion soup mix
2 tablespoons teriyaki marinade
1 (8-ounce) can pineapple rings, drained, juice reserved
1/2 cup white sugar
1 lime finely grated
8 Strips of Bacon
Salt and freshly ground black pepper
1/3 cup mayonnaise
1 tablespoon wasabi paste
1 tablespoon soy sauce
1 teaspoon teriyaki sauce
4 burger buns
Lettuce, tomato, onion, and other burger toppings
Instructions
Combine the ground beef, soup mix, teriyaki marinade mix and 1/4 cup pineapple juice
In a seperate bowl, combine the sugar and lime shavings. Mix well.
Dip the pineapple rings into the sugar/lime mix.
Form 4 patties
Season the burgers with salt and pepper
Grill along side of the the pineapple.
Cook until meat as at desired browning and the pineapple is golden brown
Mix mayo, wasabi, soy sauce and teriyaki sauce
Serve on toasted buns, topped with wasabi/teriyaki mayo.
DisneyMeals https://disneymeals.me/
Lilo's Mashed Sweet Potatoes
When Lilo is waiting on her sister, before she has the yummy cake, her sister takes away a half-eaten plate of mashed sweet potatoes, that Lilo supposedly likes.
Pink Snow Cones
In the montage of Lilo and Stitch becoming friends, Lilo brings Stitch a pink snow cone.
More Tropical Drinks
When Jumba and Pleakley are spying at Nani's work, we see Pleakley with a coconut drink.
Lilo's MASSIVE Birthday Cake
At the end of the movie, stitch makes Lilo a HUGE birthday cake.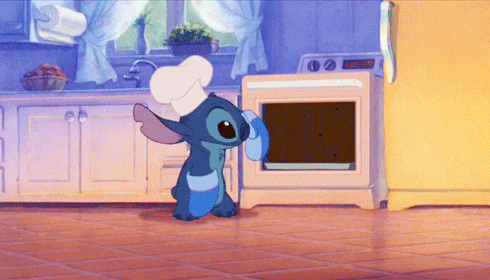 Will it Make you Reject your Programming and Learn to Love?
All of the foods this week were amazing. mmm
Verdict:
Hamburger – 10/10
Mashed Sweet Potatoes – 8.5/10
Pink Snow Cones – 8/10
Coconut Drink – 7/10
Purple Punch – 8.5/10
Massive Chocolate Cake – 10/10